Don't settle for imitation!
ArtisticGraver, ArtistGraver and ArtGraver Machines and Handpieces
Lindsay Engraving & Tools - When quality means everything. In Your work and Ours!
Family Owned! 46 Year History Tools Designed and Made in USA!

---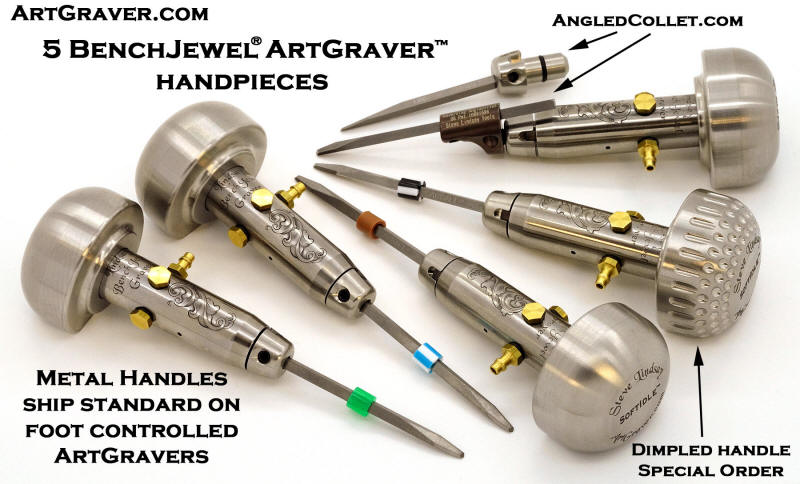 Two types of graver handles


SoftIdle handle works with most all Lindsay handpieces. The BankNote handle is only for Lindsay Classic handpiecs.
SoftIdle® Stainless Handle

Enjoy less vibration and recoil with your handpiece as well as improved idle. Metal handles we had available for approx 18 years for the tools. Since the newest development of the BankNote switch handle that does even more to improve the Classic handpiece as described below we went ahead made a run of more of of these less expensive SoftIdle handles. The SoftIdle handle fits current engraved ArtGraver handpieces as well as earlier unengraved AirGraver handpieces, providing improved idle and increased impact power.

SoftIdle® Stainless Handle $64
See below information about installing the handle

Lindsay BankNote® Mode Handle for Classic ArtGraver handpiece.

The novel, patent pending Banknote™ Mode can be turned on/off. It enhances low end control of impacts of the handpiece that make shading and bulino line work more controllable. In OFF position it is similar to the SoftIdle handle sold above. With the switch in the ON position it improves idle even more as well as alter the impact characteristics, that are more forgiving particularly at the low end. Of course it can be shut off for heavier work.

Lindsay Banknote® Handle for Classic
handpiece only (Preorder) $279

If you'd like to install this on an older Classic it is recommended that you return the handpiece to us so that a location dimple made for securing the BankNote handle on you Classic. Use the above button to order the handle and then send your Classic in. No extra cost except for FedEx return shipping. When we have your Classic fit with the handle and ready we send a PayPal request for FedEx return, minus if the button above charges for USPS. See below for information about the BankNote handle.
Installing and removing
SoftIdle® handle, and BankNote® handle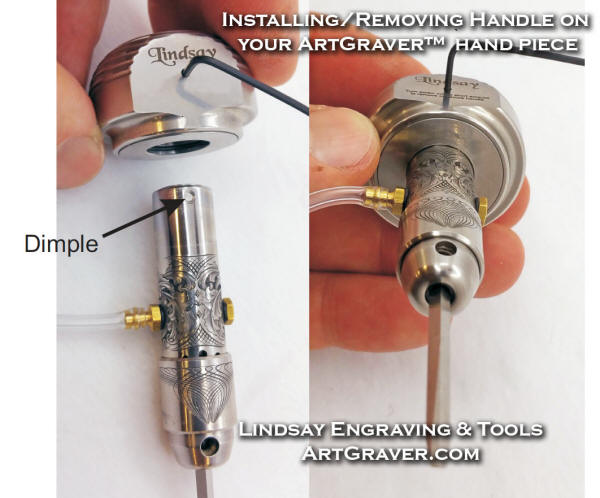 On current Lindsay foot control handpiece there is a dimple on the body for the SoftIdle® and BankNote® handle screw to align to and secure the handle on. The screw does not need to be super tight, but snug. Align the handle so that the screw will go into the dimple when tightened.

If your hand piece does not have a dimple, align the flat of the handle so it is parallel with the hose barb and tighten up the screw there. It is recommended that you return your handpiece so a dimple can be placed on it. The dimple does help secure the handle as well as align it. There is no charge for adding the dimple, except for FedEx return shipping. If you are placing a new order for a handle and would like the dimple added to your handpiece, simply write us a note during checkout in the space provided for notes that you will be sending your handpiece in for the dimple. We can then wait for your handpiece, add the dimple and install the handle for you and return your handpiece.
Replacement rubber handle for foot controlled Lindsay handpieces $25

Over time (usually years), depending on the perspiration make up of one person's hands to the next, a rubber handle may not fit as tightly. If this is noticed, the rubber handle can be replaced easily for $25. Or it can be replaced with either of the metal handles above.
All of the below listed engraving sets include:

A handpiece case, extra screws, o-rings, wrenches, handpiece tubing, connectors, compressor braided hose for connecting to an air compressor and owner's manual.
The sharpener sets with basic templates include:

Sharpening fixture, four diamond bench stones (260, 600, 1200, 2000), plus 4 templates: Universal, Detailing, 105, and Flat & Knife Combo template.



Click to enlarge


Lindsay® Classic® ArtistGraver™



Set #1
Lindsay Classic ArtistGraver with SoftIdle® handle, standard nose, foot control regulator setup, includes stainless and tungsten pistons, one presharpened Carbalt, and 3 HSS graver blanks.
$1469
With BankNote™ Mode Handle $1748

Set #2
Includes Set #1 plus - sharpener set, five Carbalt graver blanks, and five M42 graver blanks
$1,888
With BankNote™ Mode Handle $2167

Quick Change Extension



Made from 440C stainless and hardened to 60 Rockwell. 60 Rockwell is as hard as a high speed steel graver and therefore these QC extensions are made for a life time of service. They are detented for a snap in fit utilizing the internal O-ring in the nose of the AirGraver handpieces. They extend a graver 5/8".

Single index 2 pack - $19.95

Single index 5 pack - $47.50

Note: For angled extensions and collets visit: AngleCollet.com
Lindsay® Classic® PalmControl® ArtisticGraver™

Set #5
Lindsay Classic PalmControl ArtisticGraver with Santophrene handle, standard nose, with air regulator for use with an air compressor, includes stainless piston, one presharpened Carbalt and 3 HSS graver blanks.

Santophrene handle $2869

Burl wood handle $3069

Order the tungsten piston separately if needed - $125

Set #6
Includes set #5 plus - sharpener set, CO2 125PSI Regulator with integrated 20oz CO2 paintball threads, five Carbalt graver blanks, and five M42 graver blanks

$3371 Santophrene handle

$3571 Burl handle

Order the tungsten piston separately if needed -
$125


Classic bodies - foot controlled or PalmControlled come with Steve Lindsay engraving. Burl handled PalmControl Classics also include the scroll and logo engraving impression on the end as pictured. Click to enlarge.
PalmControl® SoftIdle® Handle
If you have a Classic PalmControl that is 2006 or later this metal handle can be used in place of the rubber handle. We also have replacement rubber handles for our PalmControl handpieces.
These are a very close fit. When installing do not force it. Since it is so close of fit only do some wiggling without force to get the handle aligned before it can slide on.

SoftIdle handle for PalmControl handpiece
$210.00

Rubber handle for PalmControl
$25.00
Lindsay® BenchJewel® ArtGraver®



Set #9
Lindsay BenchJewel ArtGraver has a collet nose, SoftIdle® handle, foot control air regulator setup, tungsten piston, one presharpened Carbalt and 2 HSS graver blanks, one short collet, one long collet, adapter, and owners manual. $1071

The handpiece ships with a tungsten installed. Order a stainless piston separately if needed so you have both $125

Order the BenchJewel collets below if more collets are needed


Order sharpener set separately
$294

Sharpening fixture, four diamond bench stones (260, 600, 1200, 2000), plus 4 templates: Universal, Detailing, 105, and Flat & Knife Combo template.

Extra BenchJewel collets and adapters

Two long collets $27

Two short collets $26

Adapter for Long Collets $17.50


One adapter and one long collet $31
An adapter can be moved from one long collet to another long collet.

Two Pack Hex Wrenches $2.50

The differences BenchJewel engraver set and the Artisan engraver set are:

The BenchJewel engraver set comes with the tungsten piston, a short collet, a long of collet, an adapter for the long collet, and is engraved. A stainless piston can be purchased separately for it.

The Artisan engraver set comes with a stainless piston installed. A tungsten piston can be purchased separately. The Artisan uses one size of collet, and the handpiece is not engraved.
Please visit information page for options and help choosing gravers and sets.
---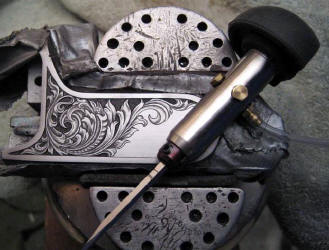 Gun Engraving by Carl Bleile with Artisan® AirGraver® Click to enlarge
---

At Browning I have taught people to engrave that wanted to learn the art and absolutely fell in love with Lindsay® tools. Also, I have let non-engravers play with it and guess what, they starting cutting with no problem.
Rich Hambrook, Browning Arms Company Additional Feedback


Lindsay Engraving Tools has unparalleled experience. The owner, Steve Lindsay, has hand engraved full time for 25 years, and designed and made engraving tools for 46 years.